Female Eye event pays tribute to the women of Studio D
By Alicia McAuley
"The Sheridan Sun Online"
http://sheridansunonline.sheridanc.on.ca/nov_01_2007/entertainment_lens.html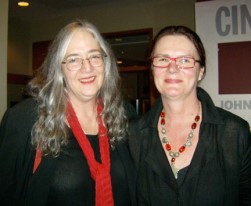 PHOTO BY ALICIA MCAULEY
Director Alexis Krasilovsky and Studio D alumni Zoe Dirse.
In 1974, the National Film Board of Canada established a special filmmaking unit called Studio D, to produce films by women, for women. On October 20, 2007, those women were honoured in a special presentation called "Women Behind the Lens."

The event, which was held at the National Film Board Mediatheque in Toronto, featured an author reading Gail Vanstone's D is for Daring: The Women Behind the Films of Studio D. The first published history of Studio D, D is for Daring includes personal interviews with the outstanding women who were involved in the production of over 150 documentaries before Studio D's closing in 1996.

"When I learned that Studio D was going to close, I was really upset," said Vanstone. "It created space; it created an energy for other things to happen."

The event also featured a screening of Alexis Krasilovsky's Women Behind the Camera. The brilliant and powerful 90 minute documentary examines the experiences of female Directors of Photography "from Hollywood to Bollywood." The film celebrates the efforts of female cinematographers from all over the world, allowing them to share their personal experiences, struggles and triumphs in their own words.
"The challenge is to get girls involved in cinematography."

"I think it's so important to validate the work of female filmmakers," said Krasilovsky, who noted that the documentary has received a very positive response thus far.

Zoe Dirse, a Studio D alumni and professor at Sheridan College, was one of the women featured in Krasilovsky's documentary. One of the few female members of the Canadian Society of Cinematographers, Dirse has become a role model for young women in her field.

"The challenge is to get girls involved in cinematography," said Dirse. "I'd like the opportunity to be able to influence young women to go into the field."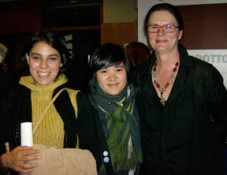 PHOTO BY ALICIA MCAULEY
Zoe Dirse and her students from Sheridan College.



"Women Behind the Lens" is one of several events presented by The Female Eye, an organization founded in 2001 by Leslie Ann Coles. A writer, director and producer, Coles founded the Female Eye Film Festival (FeFF) to bring attention to the work of other talented female cinematographers.

"Women make films that portray complex female characters who are more often than not the protagonist, and they deal with subject matter not commonly found in the mainstream Hollywood films or cineplexes," said Coles. "I feel very strongly about giving these filmmakers a forum to present their work."

The Female Eye has several events planned for 2007-08, including the second annual In Memoriam of the Montreal Massacre on December 6, which showcases films pertaining to issues of violence against women.

For more information about The Female Eye and a complete list of its upcoming events, visit www.femaleeyefilmfestival.com